Rad Rides
Feeling Rad or Mad? 3 different models for you to choose from.
Start your
journey
with us
Try our On Demand services 🙂
Make a booking within our operating hours or reserve your desired vehicle one week in advance of your plans

Anytime
Free vehicle delivery* to your doorstep! Or collect the vehicle from us should your booking falls within 2 hours of your rental timing
Anywhere
On a short term visit to Singapore but holding and International Driving Permit? Our vehicles will come in handy for you to explore our sunny island
Anyone
Share your
#CLOUDCARSSG moment
Be part of the social movement. Get featured and stand a chance to win discounts and promo codes!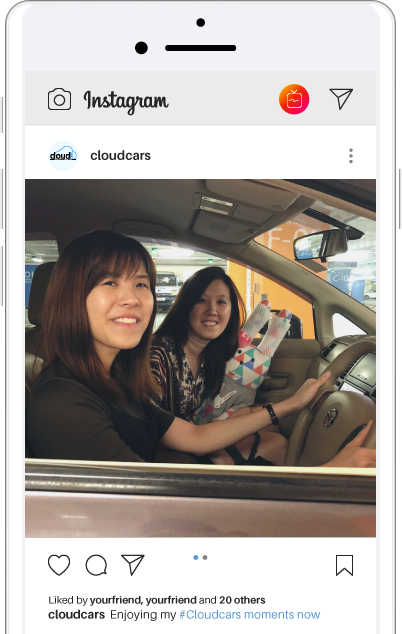 Are you ready to drive?
Sign up and book your car in 3 simple steps!
It is that easy with Cloudcars.
Two 'rad gentleman' came up with a crazy idea four years ago to plonk 'just enough dough' in this big player industry.
We had our humble beginnings too; it all started out with a small Mazda 3, rode on the Private Hire Vehicle (PHV) Wave and with the support from all of you out there, we have grown into 10 car strong independent company!
With more than eight years of industry exposure, we take pride in what we do.
City Square Mall,
180 Kitchener Road, #09-09
Singapore 208539
For feedback
feedback@cloudcars.com.sg
For collaboration
invest@cloudcars.com.sg
---
© 2019 Cloudcars Pte Ltd. All rights reserved.